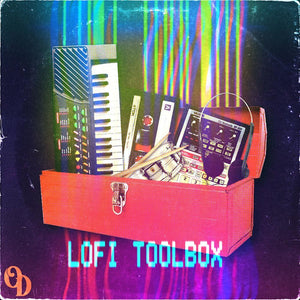 LoFi Tool Box (By Ollie Dodge)
Regular price $19.99 Sale
All the tools you need to make Lofi beats!
Original sounds recorded from scratch using vintage and modern analog gear by sound designer/producer Ollie Dodge. All sounds were meticulously crafted to sound warm, full, punchy and of extremely high quality, yet simultaneously "LoFi".
Includes sounds processed through vintage samplers as well as recorded to cassette.
All sounds are ROYALTY FREE.
257 unique sounds.
(Contains lossless 48/24bit folder and a 44.1/16bit folder - 514 files total)

15 Fender Rhodes Loops Key/bpm labeled
(3 versions of each loop: Dry, SP303 Vinyl Sim and SP303 vinyl Sim+bitcrusher)
12 Drum loops (bpm labeled)
22 Percussion loops (bpm labeled)
30 Kicks
47 snares, rimshots, claps, etc
28 perc shots
43 hi hats/cymbals
14 Textures and Ambiences
15 extras (transitions, fx, bass, etc)
Gear used:
Neve 5455 Broadcast console
Altec 1589B Clone (built by Ronald Girgis)
Gates Sta-Level Broadcast Limiter
Ampex 600 series Tube pre
Bees Neez Tribute 1 Tube Mic
AKG 4000B
Antelope audio Edge and Verge mics
Antelope Audio Discrete 8
Fender Rhodes Mark 1
SSL Bus Compressor
Optimus Tape Recorder
RCA type 1 Cassette Tape
Zoom H5 Field Recorder
Roland SP-303 & 404
E-mu ESI 4000
Yamaha SU200
Various snares and kicks from DW, Tama, Ludwig and Pork Pie
Hihats and Cymbals from Sabian, Zildjian and Meinl
Waves Smack Attack
XLN Audio RC-20 & Drum Shaper